NEW JERSEY WATER TESTING REQUIREMENTS

Did you know that 25% of all homes in the United States are serviced by private wells? Private wells should have their water tested at least once a year for safety. Water analysis is recommended by Polo & Associates and mandated by your mortgage company and the state of New Jersey. Many more parameters are mandatory now than ever before for water testing prior to any home sale. Documenting GPS coordinates of the well is also a requirement. As a rule of thumb your well head should be 8" above the finish grade, uphill and at least 50-100' away from any septic system.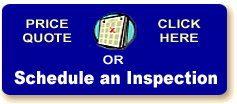 Testimonials
Many thanks for your time in coming by to inspect our home. While the process itself was short, the peace of mind you've given my family runs long and is much appreciated. Nothing but good things to say regarding all aspects of your business.
Mark, Carolyn and AJ R. - Riverdale

I was very pleased with your service, the professionalism and thoroughness of your inspections. I'd be happy to serve as a reference for you.
Regards,
Monica F. - Howell

Very helpful, professional, insightful and accomodating. I would recommend you to my other clients. Thank you.
Adrienne F. - Madison

Click Here to Read More