New Jersey Professional Home Inspectors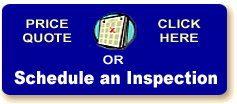 Testimonials
Many thanks for your time in coming by to inspect our home. While the process itself was short, the peace of mind you've given my family runs long and is much appreciated. Nothing but good things to say regarding all aspects of your business.
Mark, Carolyn and AJ R. - Riverdale

I really appreciate the complete inspection performed on the home I just purchased! You highlighted some issues that need to be addressed, yet gave me comfort that the home is largely in good condition. I was also very pleased with your choice of professionals to perform the lead-based paint and oil tank scan tests. All of you were thorough, professional & on time, and you have my sincere thanks !
Sheila K. - Warren

Click Here to Read More